Because I find self-deprecation somewhat cathartic, I'm entering
this contest
for the ...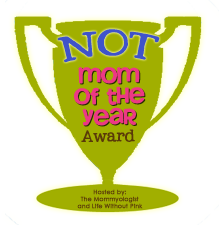 This is just one of many reasons why I'm not mom of the year:
Though you can't see it, there is, at least, an outlet cover in the bottom socket.
And through brilliant, award-worthy poetry, I offer you myriad other reasons why you should vote to have this title bestowed upon me.
A desk lurks somewhere under teetering stacks of paper in the office. There's laundry in the hamper, dishes in the sink. The diaper pail wafts an offensive odor, it never ceases to stink.
I'll be feeding Mungee jarred food forever, I'm not one to cook. Every once in a blue moon, we'll sit down to read a book.
Instead of cleaning, I read blogs during naptime. The highchair tray is covered with mysterious grime.
Once a week, I might sweep. Why tidy up, when I would rather sleep?
My legs aren't shaved, my hair looks like hay. At least I took a shower today.
(Except I haven't)
It's too hot for the playground, we don't go for walks. The bouncy seat makes a great babysitter. Mungee never wears socks.
The baby book is barely touched, milestones unrecorded. Haphazardly scribbled notes like "she got a tooth!" & "she's crawling!", however, need to be sorted.
The crib mattress is still at its highest setting, the doorways have no gate. When it comes to baby-proofing, I am fashionably late.
If there was ever a doubt I'm not mom of the year, I think I've done well proving it here.
********************
Many thanks to Tina at Life Without Pink and Mary at The Mommyologist for inspiring me to continue not being the mom of the year in order to write this post while Mungee is trapped in plays in the Exersaucer.