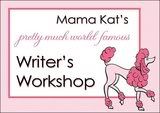 I've been tempted to participate in
Mama Kat's Writer's Workshop
for a while now, but the creative juices haven't been flowing and I was unable to come up with anything
I wouldn't be embarrassed by
worthy of posting.
Yesterday, however, I was drawn to this prompt:
2.) Write a poem about a memory you sometimes wish would disappear.
I've certainly got a few memories I wish would vanish into thin air! Why does it seem like the things we desperately want to forget are the memories that stand out the most?
Okay, go easy on me ...
*********************************************
I'm a recent college grad
I'm moving out, getting my own pad
Needing the last of my things for my new apartment
I return to the house I used to rent
Old roommates were still living there
I walk in and they begin to stare
"What are you doing back?" they say
"What do you mean? I haven't been here today"
I push past, open my old bedroom door
The place was empty, my possessions no more
Tangible reminders of memories, lost
My clothes, yearbooks, everything, tossed
Claims of ignorance fill my ears
"We don't know what happened here"
These things cannot be replaced
and those I trusted broke my faith
Parts of me I'll never get back
This is a memory I wish I lack
*********************************************
I hate thinking about this.